Confucius Institute of Coventry University hit significant success in All-British Chinese Bridge
Date:2018-05-11 08:45:57.0 Click: Source: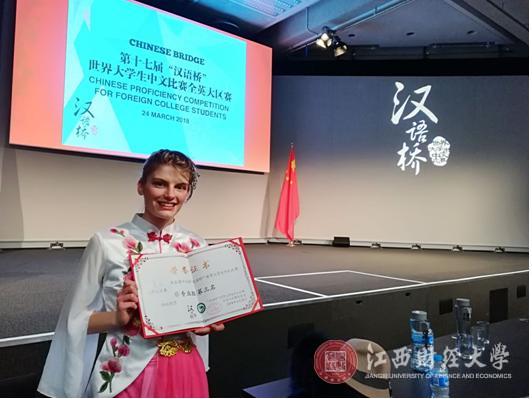 In the 2018 All-British Chinese Bridge Competition, Xia Le, a student recommended by the Confucius Institute of Coventry University, obtained a third place in the non-professional team of the Chinese-British Chinese Bridge Competition, Which was the first time for the Coventry Confucius Institute to recommend the contestants to participate in the competition and gain Excellent success.
Xia Le, a player recommended by the Coventry Confucius Institute, had outstanding performance. In the competition, she made the Chinese traditional dance show, attracted everyone's attention. She combined the ballet with the graceful traditional dance, accompanied by the recitation of poem Jian Jia. The audience was deeply moved. In the speech session, her pronunciation was clear and standard. In the quiz session, she was responsive and resourceful. In the end, Xia Le obtained the third place in the amateur team of the English-Chinese Bridge Competition.

The talented performance showed by the second player, Park Na-sung, was recital poetry with flute music. The poem was Xiaoyaoyou (a famous poem of Zhuangzi).The song was Dayu (a adorable Chinese traditional style song).Playing flute was quite difficult for her, because she had never played Chinese flute before. However, after several months hard training, she performed quite well during the competition and received a round of applause. Finally, she also achieved excellent results in the amateur team.

After the competition, the players expressed the thankfulness to the teachers for their patience and hard work.

As the youngest Confucius Institute in the UK, It's not very easy for Coventry Confucius Institute to send the contestants to participate in the Chinese Bridge Competition and obtained the excellent results. This remarkable competition achievements not only demonstrated the excellent teaching of our Confucius Institute, but also embodies the spirit of unity,cooperation,dare-to-challenge of teachers and students. In the foreseeable future, our Confucius Institute will determine to make more significant achievements in the communication and promotion of Chinese language and culture.