JUFE Welcomes 2018's Freshmen
Date:2018-09-12 10:29:53.0 Click: Source: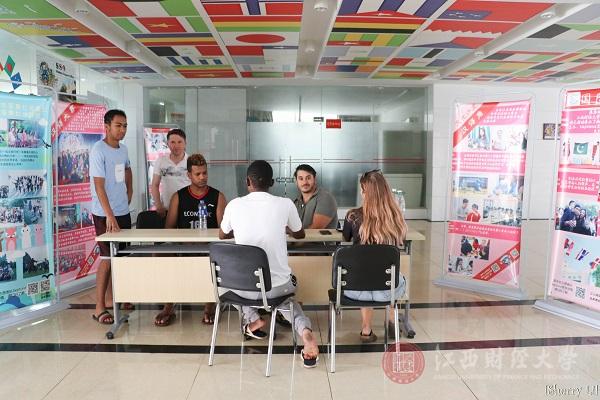 On September 11th, 82 new foreign students arrived in JUFE from the United States, Britain, France, Russia, South Korea, Pakistan, Bangladesh and other 33 countries. 35 of them are postgraduates, 30 are undergraduates, 16 are master students, and 1 is a doctoral candidate. Some newcomers, affected by delays in visa processing, will enroll in in two weeks. As the regular orientation arranged by the International Cooperation and Exchange Office(ICEO) suggests, after a series of procedures like airport pickup, check-in, entrance education, course selection, entrance test and physical examination, the foreign students will begin their study tour here.
School Opening Ceremony & Enrollment Education
‍‍‍‍‍‍‍‍
‍‍‍‍‍‍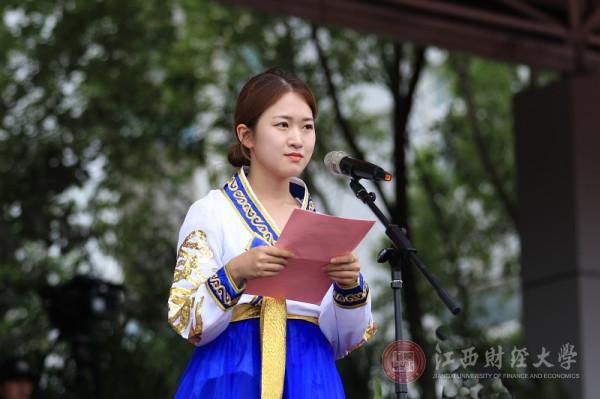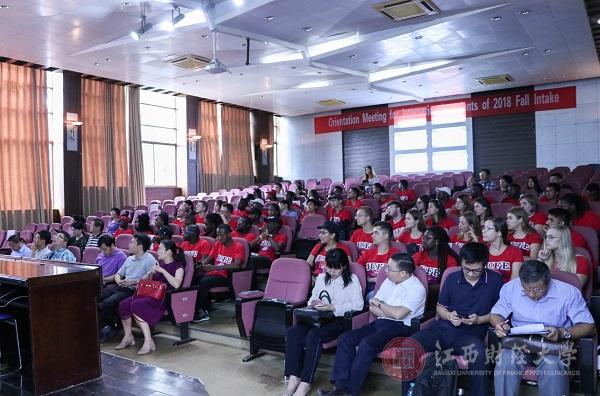 ‍‍‍‍‍‍‍‍

On the morning of the day, new foreign students attended the school opening ceremony of the class 2018 freshmen of JUFE in Mailu Campus. Kim Doo-hui, from South Korea, delivered a speech as a representative of new foreign students. She said that now China has become the center of attention of the world and provides ideas for global development. For Kim Doo-hui herself, it is a good fortune to study in China in order to contribute to the cooperative development of the two countries and realize their own value while Korea and China have been furthered their cooperation in student exchange affairs and. Her clear Chinese pronunciation and full emotional expression won much applause from all teachers and students.

Subsequently, the entrance education conference for new foreign students was held at Jiaoqiao Campus. Vice President Wang Xiaoping extended his warm welcome to the overseas students who came from afar, gave them a brief introduction of the new school opening ceremony and elaborated the main contents of speeches of President Lu Fucai, alumni representatives and foreign student representatives. In addition, Vice President Wang Xiaoping introduced the human geography of Nanchang City, the school history of JUFE, the situation of discipline construction, and the development of education in China. He hoped that overseas students could fully integrate into the study and life in JUFE. Xiao Long, head of ICEO elaborated the courses at different levels and in different majors for foreign students , and introduced a series of after-school activities carefully arranged by ICEO such as pairing, Chinese corner, business visit and cultural investigation. Students should abide for the Chinese laws , school rules and dormitory regulations for their own safety so that they can enjoy the fruits of economy, culture, and folk customs of China as much as possible.
Staffs in ICEO introduced all matters about school enrollment and stressed their attention to the validity period and renewal of visa, teaching rules, dormitory management regulations, payment of fees, insurance purchase and other important issues. The captain of the volunteer team made an introduction of the team and some extracurricular activities to be carried out in the new semester. Leaders of the School of Finance, Taxation and Public Administration, the International School of Economics, the School of Information Management, the College of Tourism and Urban Management, and the College of Humanities respectively introduced their discipline construction and academic results in the entrance education conference. After the conference, they conducted in-depth communications with their foreign students.

Decreed by destiny and assembling for culture

On September 8th, volunteers in Septune held an "Find Your Language partner" party for new students in overseas students' apartment.

This activity involved in pairing, self-introduction and games playing. In the pairing, students introduced their hometowns and local customs with their partners. The first game "string name game" where candidates should memorize each person by repeating names of all players. Then followed the second game "snatch stool" that was quite popular on the spot.

It is not only an unpredictable accident, but also destiny that makes people from different places of the world meet in JUFE where talents are accepted, cultures from all over the world are nurtured and friendship is strengthened in the cultural exchanges between Chinese students and foreign students.

Other orientation work

On the afternoon of September 10th, students' campus cards, telephone cards and bank cards were applied. On the morning of September 11th, students did a comprehensive physical examination in Jiangxi Provincial Inspection and Quarantine Bureau and would get the results in three days. On the afternoon of the day, all the postgraduates took the Chinese proficiency test and completed the selection of specialized classes and language courses, while students of English majors took the mathematics proficiency test invigilated by School of Information Management. On the afternoon of September 12th, Lou Jie, police officer of the entry and exit administration department of Nanchang public security bureau and Wang Chen, officer of visa management department explained the relevant laws and regulations to all the students as to improve the understanding of the laws and regulations of China and raise the awareness of law-abiding.
By now, the orientation has been basically completed. On September 14th, new foreign students majoring in English will take the English proficiency test invigilated by the International College of Economic and Trade. On September 18th, the Academic Affairs Office will carry out a training program for all undergraduate students of them and give the professional knowledge guidance of credit earning. New students will complete the formalities of residence permit on September 25th and will form pairs with local students on September 28th. All postgraduate students will begin their classes on September 12th while master students will begin classes on September 17th and English undergraduate students on October 8th.(written and photographed by Hu Zujun from ICEO)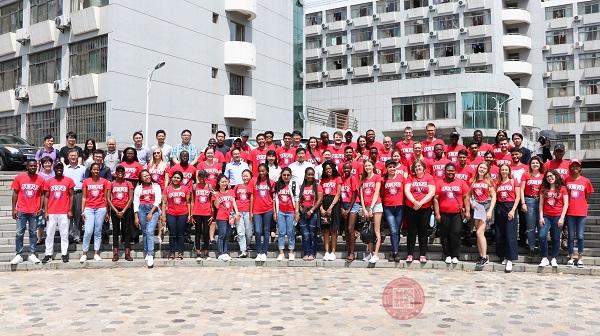 ‍