The Sharing Meeting of Studying Abroad was Held Successfully
Date:2019-05-27 14:08:16 Click:

Source:
In the evening of 24th May, the sharing meeting of studying abroad was held in JUFE.This meeting was sponsored by the Office of International Cooperation and Exchange Overseas Education Center with the assistance of Student's International Communication Association(SICA).Vice President Wang Xiaoping attended the meeting and delivered a speech. Relevant persons in charge from the Students' Affairs Division, Dean's Office, Office of International Cooperation and Exchange Overseas Education Center, Admission and Employment Office, School of Business Administration and School of Humanities also participated in this meeting.
Wang Xiaoping gave a highly recognition and congratulated the students who have successfully applied for the top universities in the United States and Britain. In combination with his own personal experience, Wang Xiaoping encouraged students to be willing to have lofty aspiration, high sense of social responsibility, and hard-working spirit. He also encouraged students to pursuit further academic career and repay to their Alma mater and homeland in the future.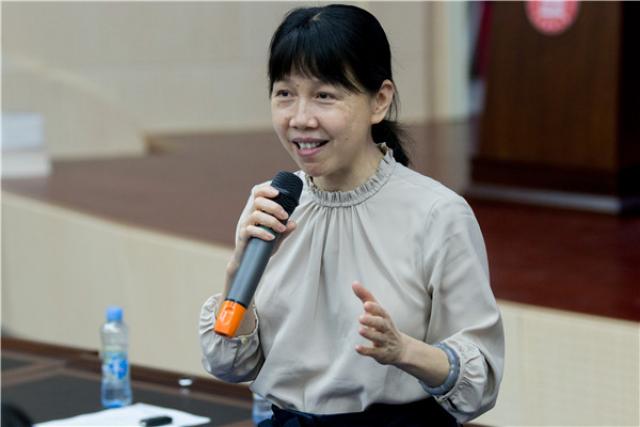 Xiao Long, the director of the Office of International Cooperation and Exchange Overseas Education Center, answered the questions presented by the audiences.He pointed out that the CSC had provided strong support for the faculties and students who apply for the intern and work in the international organizations. JUFE had several successful case among faculties and students. He hoped that students who intends to prepare themselves for the service in the international organization should take action early, improve their ability comprehensively and apply to the programs actively.
Xia Jinglin and Xu Tao,from Office of International Cooperation and Exchange Overseas Education Center had detailed introductions of Study Abroad Programs and scholarship policies in JUFE separately. As of the end of April 2019, JUFE had exchanges and cooperation with 138 institutions in 34 countries or regions. The cooperation included CSC programs, tuition-free exchange programs, and self-funded study abroad. In order to encourage more students to go abroad to study, JUFE had set up many scholarships for overseas study. In 2018, 8 students won the studying abroad awards, 111 students won overseas study awards, 204 people received overseas short-term exchange self-help, and 457 people won language examination awards.
Subsequently, six keynote speakers shared their reflections and successful experiences of studying abroad to the fellow students. Xu Qiqi, Xue Jiaxin, Xu Ruohan, and Liu Yuning, who respectively went to the United States, Germany, Canada, and the United Kingdom through the State-funded, Self-funded and Exchange Program, introduced their study, life, campus culture, experience and gains from overseas studying. They discussed how life abroad can make people more independent, confident and tolerant.
Wang Yideng, a students of the School of Finance, successfully applied for a master's degree at the London School of Economics and Political Science (LSE) with his strong background that including a high weighted average point of 92.38, GMAT750, IELTS 7, a one-year exchange experience and four high-quality professional internships. Guo Waner, a student from the School of Statistics, successfully applied for a master's degree at Columbia University with a weighted average point of 91.1, GRE325+, TOEFL 100+, short-term exchanges experience during the undergraduate studies, and first prizes in various professional events. The two students explained and analyzed the preparations and timing of the application of the universities in UK and the US in detail, and emphasized the importance of setting goals, how to demonstrate their own advantages, how to apply for high-quality internships, and how to balance the time and effort. They pointed out that students who would like to study abroad should set goals as soon as possible, and focus on the language, internships, research, competitions and other related preparations.
​There were more than 300 students who participated in this sharing meeting. After the meeting, many students asked questions to the guest speakers and teachers, showing their high enthusiasm for studying abroad.
The overseas exchange study experience during the undergraduate period has greatly contributed to the application to the graduate schools. According to the incomplete statistics, among the graduates who have studied and exchanged through the exchange program of JUFE, more than twenty 19er have successfully applied to the top universities in the world, such as Columbia University, Yale University, Imperial College London and London School of Economics and Political Science.
​